There are 500 million people across the world who have English as their first language, which gives UK e-tailers a great advantage when expanding across borders, but language isn't the only consideration.
Making the most of your UK based ecommerce business by selling to English speakers overseas is a great way of laying strong foundations for global expansion. But, even with one of your biggest barriers, language, removed there are still some others you need to work on.

While you're well-versed in how to sell to English speakers in the UK, there are things you need to consider for the 500 million people who speak English as their first language in other parts of the world.

Firstly, where are these English speakers based?
There are five main countries who have English as they primary language.

• UK
• Australia
• Canada
• New Zealand
• United States

The Republic of Ireland and Commonwealth Caribbean countries also declare English as their primary language, increasing your target audience by a further 49 million.
What other considerations will help increase your international sales?
While English is a language you'll share with them, there are other factors that you'll need to have in place to make sure your new customers can buy from you in the same way as any website based in their own country.
Currency: Not only will your international customers appreciate being able to compare your product price to others more easily, but it's also more familiar to them and they'll be more comfortable buying from you.
Payment method: Not everywhere has the same credit cards or web-based payment options like PayPal. You'll need to make sure your website switches options depending on the location of your customer.
Design: Localising the design of your website is also important. Colours for example may create a different first impression depending on the location. Red, for example, can mean luck, prosperity and love in some cultures but in others it represents death and grief.
How important are these factors?
Flow.io looked into these elements a little further to see how important they were to people in different countries. They found:
Shopping cost ranked highly as the highest barrier in almost all English-speaking countries included in their research
Canadian shoppers said taxes and duties, as well as currency exchange rates were significant
Local retailers might well be preferred by Australian shoppers to overseas businesses
In the US site security and customer service availability was a big factor in where they choose to spend their money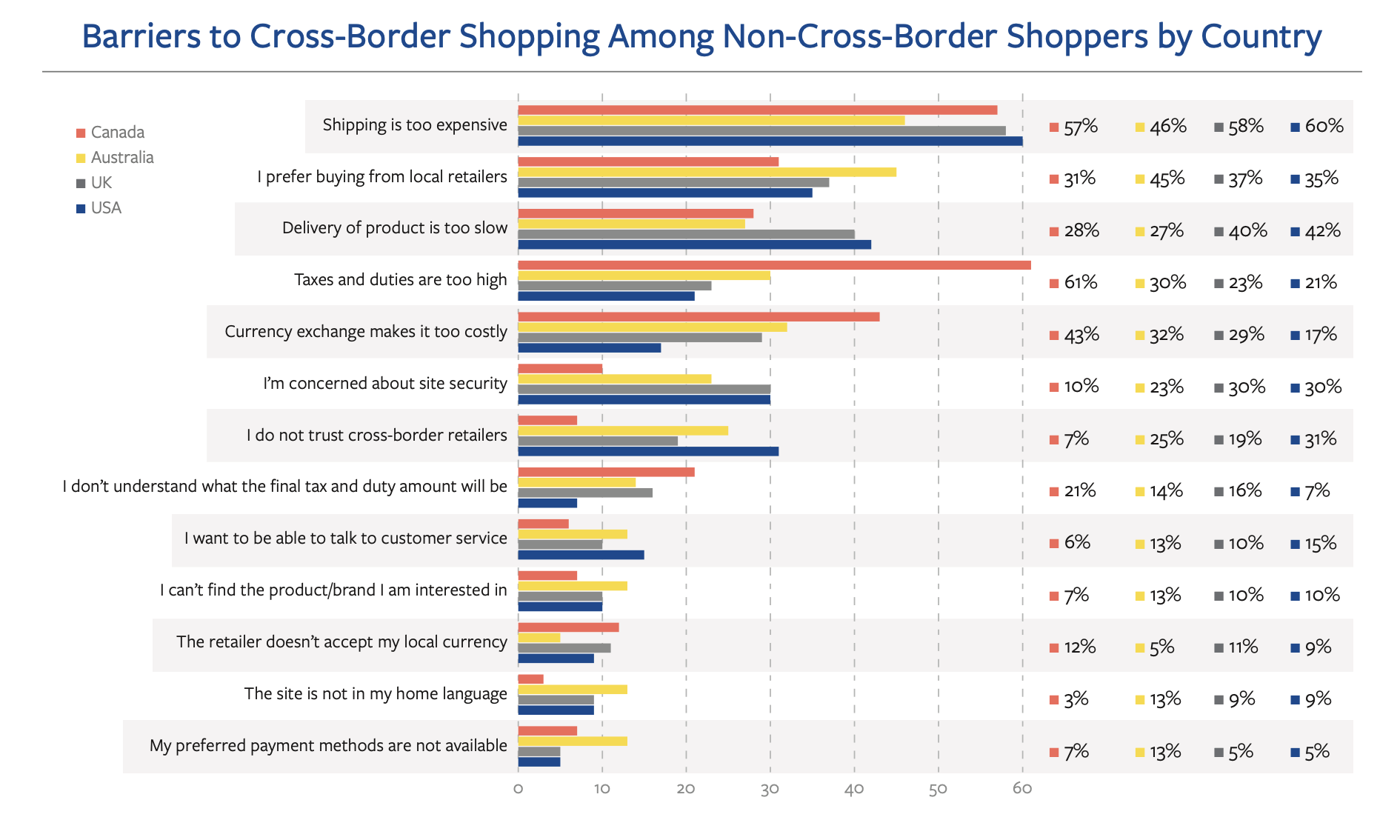 Source: Flow.io

There are a whole host of ecommerce platforms (eshopworld, Shopify, Magento and Bigcommerce) that will help with most of these options and others, but you'll also need to consider the 'real world' aspects of buying and selling overseas to.

This becomes even more apparent when you see Flow.io's research reveals that slow product delivery is a big factor for many customers, in particular for those in the US.

Getting your items to your customers safely, securely and on time is of prime importance. You'll need a mail delivery solution that helps you build on your strong reputation and hit the ground running in unfamiliar territory.

So how do you choose an international parcel delivery provider that can support your global expansion?
First and foremost, make sure they can integrate with your chosen eCommerce platform. They'll need to be able to receive notifications into their system so they can then grab the baton and get the customer journey finished within the agreed time frames.

You'll also need to look at:
Delivery cost and options and returns process – their prices need to be right for you and your customers
Proven quality – check out reviews and listen to what other businesses have to say
International shipping and local knowledge – another big consideration if you're expanding into new locations
Flexibility – As you grow can they adjust your package to cope? Can they offer storage space and manage your picking and packing too?
User friendly technology – you need to devote your time to running your business not learning a new complicated system that is painful to use
An easy-to-use service – the relationship needs to be nurtured but easy to manage
Taking all these into consideration and making the most of the localisation options of your ecommerce platform, you'll be selling overseas in no time.

To find out how Asendia can help you tap into the worldwide English-speaking market get in touch.





Asendia's international shipping services for online stores large and small
We handle the fulfilment and shipping of international orders for some of the biggest etail brands in the world and hundreds of smaller online stores too.