Shopify, Magento, BigCommerce or something else? Which e-commerce platform is best for setting up an international online store?
It won't be a surprise to many that eCommerce is booming and there are currently some excellent opportunities to grow your online business internationally.
Some analysts say there has been a 52% increase in online sales toward the end of 2020, and it's predicted many of these new online buyers are set to continue visiting their favourite online shop, rather than venture into town.
What's more, thanks to the convenience of home delivery, many online shoppers are just as happy to buy from a store thousands of miles away as they are a local 'e-tailer'. Cross-border shopping has seen huge growth despite the challenges logistics providers have faced with some borders temporarily closed and a lack of planes in the air.
But there will be challenges in establishing yourself in a new and unfamiliar market, with a different language, currency and customs.
Thankfully the very clever people behind some of the web's best international eCommerce platforms have already thought about this and pulled together a lot of features to leap over any of the barriers you may face when entering the international market.
What international ecommerce platforms are there?
There are some excellent eCommerce platforms out there already primed and ready to give your business an international boost. Here's a brief intro to the ones we think could be right for you.
A fine selection to choose from, but which are the best for cross-border ecommerce? We've taken a look at them all and have selected what we think is the top 3 list of eCommerce platforms that will be perfect for you when going cross-border.
Shopify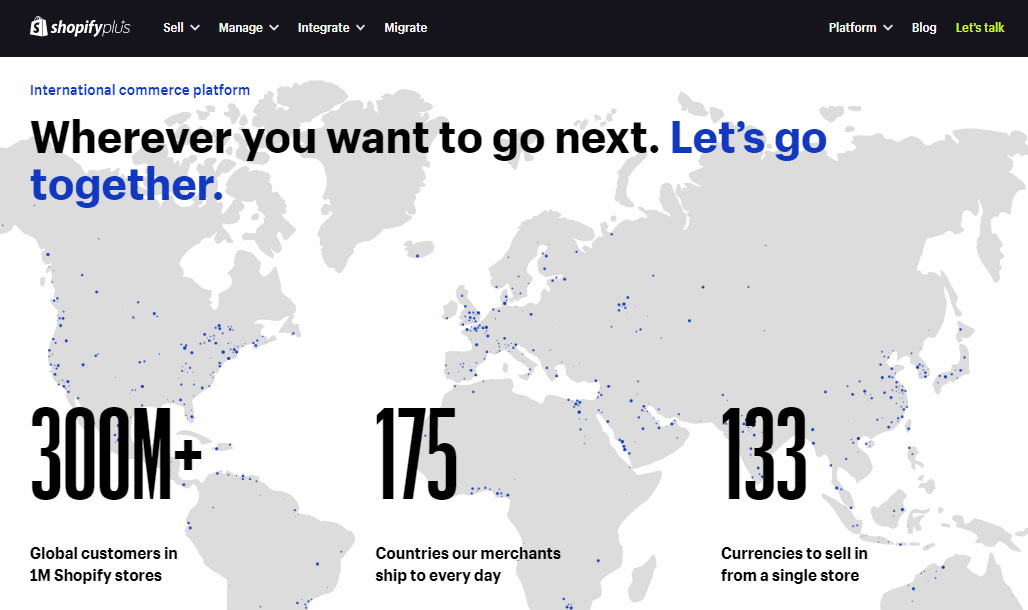 Shopify is possibly the most well-known platform out there, with 800,000 online stores and $63 billion worth of sales through its system. But is it right for you?
If you're a beginner or established business, then Shopify can certainly give you a seamless operation that integrates with your site and gives your customers easy to use purchasing the world over. It's easy to use and you won't need any technical knowledge as they'll guide you through set-up.
There are also multiple free and paid add-ons that will help create a store bespoke to you.
You'll have access to local currency and payment options, multilingual plugins, multiple templates to use (if you don't have a designer of your own), flexibility and excellent 24-hour support.
Where Shopify does let itself down is with access to delivery logistics. At the moment they're only able to support fulfilment in the US. So, while the purchase experience might be seamless, you will need to have a fulfilment provider pick up the job once the customer has checked out.
This may not seem a massive issue, but make sure you use a company like Asendia that can integrate with Shopify. That way, as far as your customer is concerned, they've dealt with the same company from the moment they hit your home page.
ShopifyPlus is Shopify's enterprise level platform and this includes additional features, including native features to support international growth.
Fun fact: Shopify was founded by a German living in Canada who was trying to sell snowboards. They couldn't find an eCommerce platform that worked for them so made their own and then realised others might like to use it too.
Click here for full details about Shopify's international ecommerce capabilities.
Bigcommerce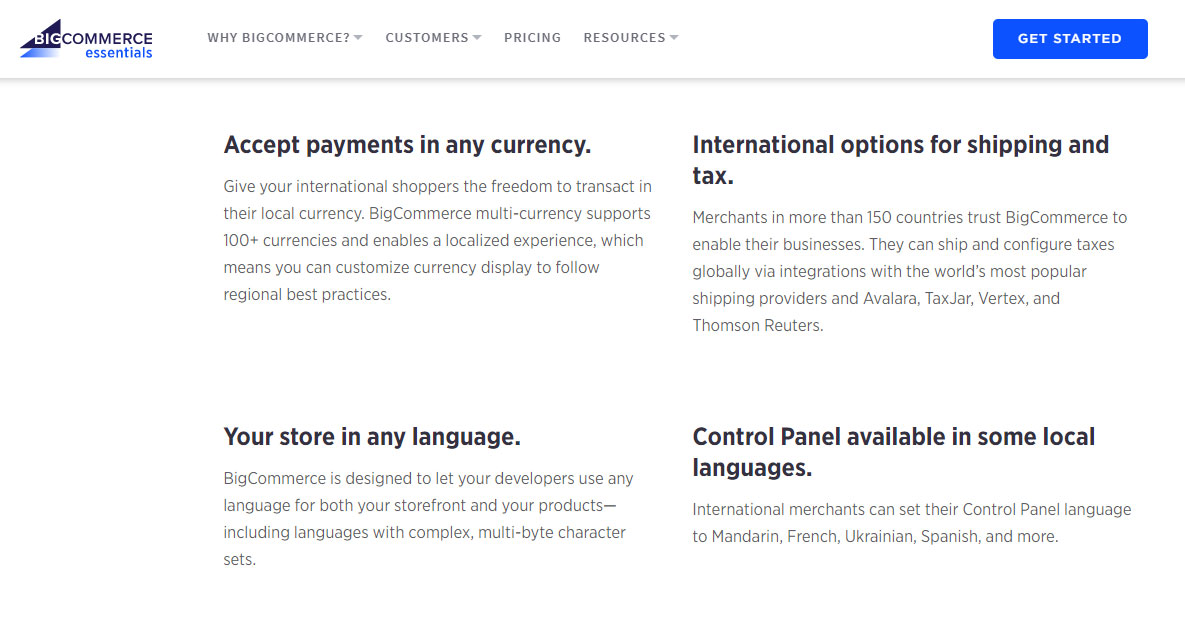 BigCommerce has around 100,000 stores and has generated sales of more than $17 billion, securing their spot as one of the biggest eCommerce platforms across the world.
One of Bigcommerce's biggest draws is its ability to deal with large inventories. If you're a business that has loads of different categories of stock, then there's no limit to how many you can add on this platform.
Thanks to this, it's highly scalable so can grow as big as you need it to with your own business. They also don't charge any transaction fees either – which is great news if you have a smaller margin on your products.
Being noticed is also a big deal in a busy online marketplace. The SEO features of Bigcommerce will give you a boost here.
While Bigcommerce does have an incredible number of options, these can feel daunting so be prepared for a steep learning curve before you dive in. Consider also that Bigcommerce may in itself be too big for your eCommerce if you've a small inventory.
They also have no shipping solutions on offer so once your customer has checked out, you'll be handing them over to another third-party to get their orders to them. While this may be acceptable for some, it can be an extra headache if your delivery logistics don't integrate seamlessly with Bigcommerce.
Click here for full details about BigCommerce's international ecommerce capabilities.
Magento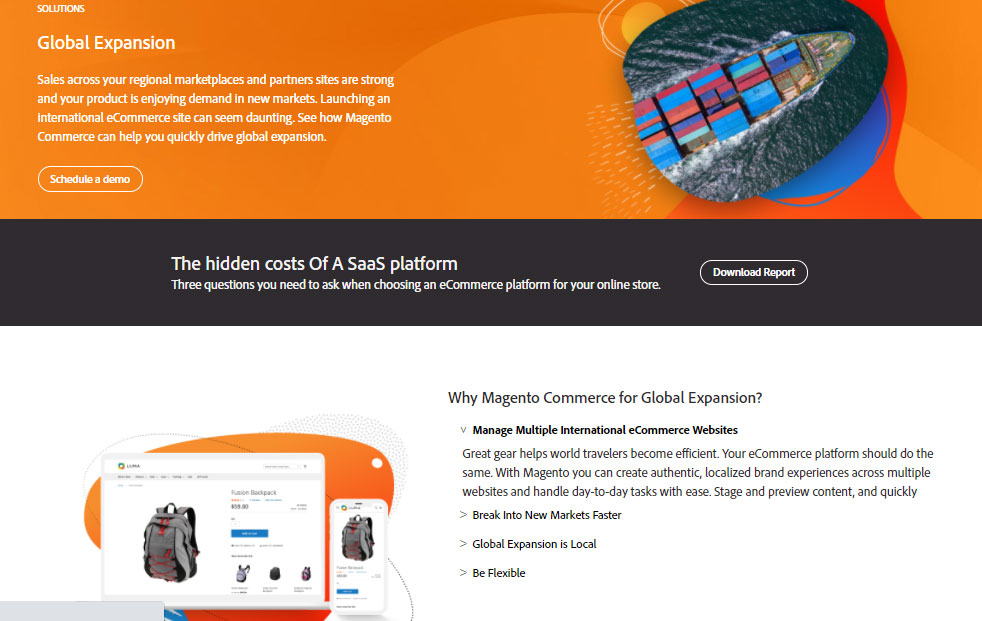 As a self-hosting eCommerce platform setting up your store can be tricky if you don't have the technical knowledge needed, but if you have a developer supporting you then you can really make the most of its customisable options.
Magento itself, handles around $100 billon of sales across its platform proving it's a trusted and useful tool for eCommerce, especially as it's free to get started.
But once you're set up, the price of using Magento can increase, and so it does pose an expensive option for a lot of SMEs.
It's therefore best for larger companies with a lot of resources to make the most of its feature-rich options inhouse, which may be too complex for most.
Magento does give you access to things like large product catalogues, native product bundles and groups, cross-selling and upselling features. With all the extensions and addons, you can customize your eCommerce website with almost whatever you need, but you will need a developer to make the most of these options and keep them updated.
Like the others, Magento has limited shipping solutions, only supporting US delivery logistics. So, if you're based elsewhere, you are going to have to find a shipping solution that integrates with Magento.
Click here for full details about Magento's international ecommerce capabilities.
Is there an alternative to Shopify, Magento and BigCommerce?
While we have looked at what we think are the top three – and perfectly good eCommerce solutions for e-tailers looking to expand internationally, they all fall down on their delivery logistics options. You can integrate carriers and returns providers but it's not an out of the box feature.
There is a platform that could solve this problem, but it is aimed at enterprise level online stores.
eshopworld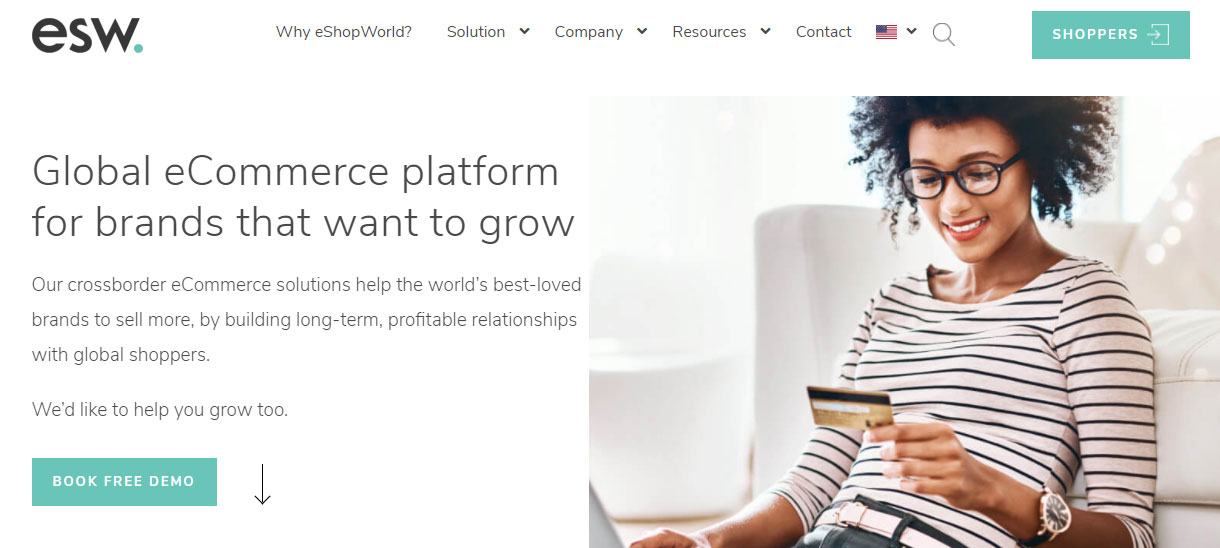 It's clear that a seamless transition from online to offline is needed when selling to customers across the world. While they'll be perusing your products and making purchases online, they'll expect to receive them quickly and safely in the real world.
eshopworld is able to do just that and seems to be a perfect solution for todays' eCommerce boom, offering excellent options for enterprise e-tailers. It'll give you access to a secure platform that can integrate with your new or established website that focusses on worldwide customer service, so you have an international but local website. Features include:
Multicurrency
Multilingual
Lots of local payment options
Fully landed cost calculation and payment (customs duties and taxes)
Built in shipping solutions
Their own international returns solutions
Plus, you can have customisable templates and SEO for each location you're selling to, and tech support that includes business continuity features and access to compliance teams that will make sure you're within legislative requirements.

International ecommerce platform comparison summary
Shopify, Magento, and BigCommerce will all enable you to sell internationally with capabilities that cover the critical elements for the shopper:
Find your business thanks to strong SEO

Browse your full inventory of products easily and see prices in the local currency

Checkout using their preferred payment method
Currently they are limited in what they can offer in terms of localised delivery experience and returns solutions, you're going to be reliant on your own relationships with international shipping carriers and returns services. Getting this right is really important so customers:
Understand what duties and taxes need paying

See attractive delivery options and returns policies
Unless you're able to provide this clarity you will always have an element of friction in the international shopper's experience which will lead to cart abandonment.

eshopworld certainly provides the next level of expertise for cross-border ecommerce, but it's only really accessible to larger etailers. However as Shopify, Magento and BigCommerce continually invest in their platforms it seems very likely that they will become even more sophisticated, enabling smaller stores to offer a fully localised shopping experience worldwide. So watch this space!

Asendia's e-commerce services
We handle the fulfilment and shipping of international orders for some of the biggest etail brands in the world and many smaller online stores too.