If your website is in English you can get some quick wins by targeting English speakers worldwide, but where are they and what are they buying?
There are 500 million native English speakers across the world with many purchasing online across borders. It's a market perfect for an ecommerce business like yours on the cusp of expanding globally.

With a strong UK customer base already in your home territory, there's not a lot you have to do to the front end of you online shop for it to be ready for new customers overseas in Australia, Canada, Commonwealth Caribbean countries, New Zealand, Republic of Ireland, and the United States.

Yes, you'll need to look at making sure they can pay in their local currency using a payment method they are familiar with, and local couriers will deliver things safely and securely, everything else can stay as it is.

But is it a business like yours they're looking for?

flow.io have carried out some research which gives an interesting insight into what people are purchasing across borders in English speaking countries.

Firstly, let's see who they're buying from.

The good news is that the UK is consistently ranked among the top three countries that English-speakers overseas will purchase from. Depending on the country they share the top positions with China and the US.

Additionally, and it's no real surprise, New Zealand only appeared in the top five for Australia (13%) and Mexico was a top source for cross- border shopping in the USA (22%)

Most places also purchase from Hong Kong enough for it to be in the top everywhere except in the USA.

Top five countries purchased from by major English speaking markets
AUSTRALIA
1. USA
2. China
3. UK
4. Hong Kong
5. New Zealand

CANADA
1. USA
2. China
3. UK
4. Japan
5. Hong Kong

USA
1. China
2. UK
3. Canada
4. Japan
5. Mexico

Now we know where English speaking markets are buying from, what are they buying?

Looking at the categories, Flow.io found that clothing was the most likely to be purchased. This isn't massively surprising, it's easy to transport and can be stored indefinitely.

It's also likely to get to the customer quickly too, especially if you make the most of international fulfilment centres like the ones that Asendia offers.

The top categories in other English-speaking countries, other than the UK, were:

• Australia: Books, e-readers, school supplies, fashion accessories and baby products
• Canada: Shoes and consumer electronics
• USA: Jewellery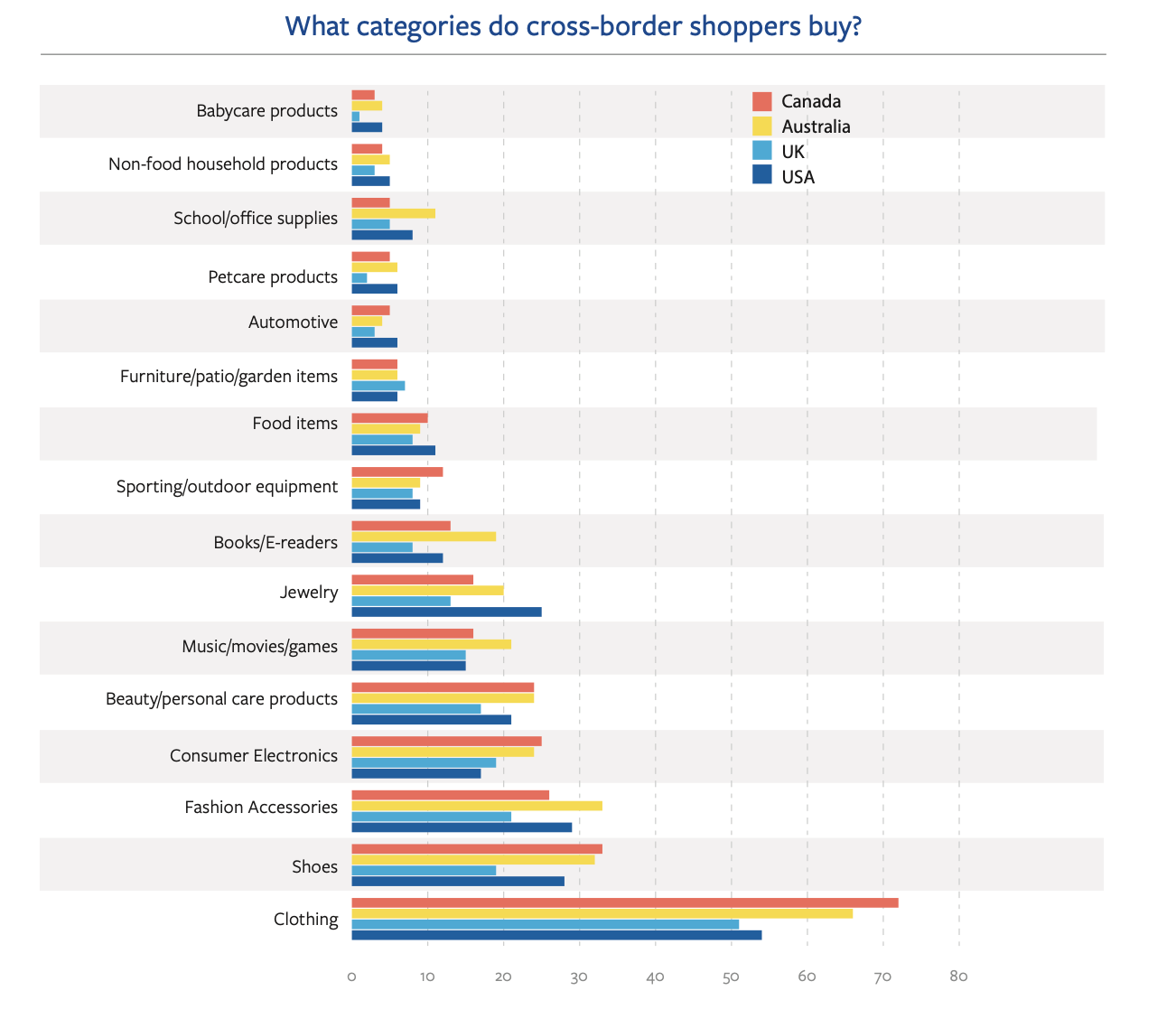 Source: flow.io

Attracting new customers to your website is just the start, you also need to get your products to them quickly and safely.

Asendia operates in 32 global locations and has fulfilment centres across the world, including in the main overseas English-speaking countries (UK, USA, Australia and New Zealand).

Drop us a line to see how we can help your global expansion.

Asendia's international shipping services for online stores large and small
We handle the fulfilment and shipping of international orders for some of the biggest etail brands in the world and hundreds of smaller online stores too.