Key services
Print - highest quality digital printing and inkjetting; full colour and monochrome
Finishing - wide range of print finishing equipment: trimming, folding, tabbing, labelling, etc.
Enveloping - high speed envelope inserting, including selective and intelligent inserting
Polywrapping - Sitma poly wrap lines, up to 10 inserts, including selective insertion
Handwork - a team of people producing mailings that can't be done by machine
Postal and parcel solutions - our mailing houses are connected to our global distribution network and the UK postal system
Main benefits
A choice of print options, from highest quality to lowest cost
Produce direct mail that is creative but still automated to keep costs low.
Options for direct mail, business mail and publications and we can supply envelopes too
High quality (ISO certified) and high speed services for magazines, catalogues, newspapers and direct mail
Make your mailing campaign as creative as you like and we can handle it
Most importantly, we are experts at maximising postal savings because we are a postal operator ourselves
Maximise postage cost savings - Asendia's mailing house in Bedford is connected to our global and UK postal solution.
We have the expertise to produce and sort mail to the standards of international postal operators; we are one ourselves! Located on the outskirts of Bedford, our mailing house is just ten minutes from the M1 and we have vehicles collecting from us daily to deliver mailings to our Mail Centre at Heathrow for direct injection into our global mail network. For UK mailings we are a Royal Mail partner and offer a Downstream Access (DSA) solution, enabling you to maximise domestic postage savings too.
What is a mailing house?
A mailing house, also known as a 'mailing agency' or 'direct mail services company', produces and prepares direct mail for national or international distribution. A mailing house's services could be used for fulfilment of direct mail marketing, magazines, letters or products.
A quick tour of our mailing house in Bedford
We welcome prospective customers to visit our mailing house in Bedford or Southampton, as we are happy to show off our facilities, systems and people.
But if you don't have the time, then we hope this video gives you a good insight into what we do and how we do it.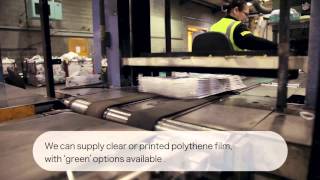 Over 45 years experience
Our mailing house in Bedfordshire has a heritage going back to 1969 and has been in its current location for over 30 years. This makes us one of the UK's most experienced and knowledgeable mailing fulfilment companies.
Trusted by customers large and small
A wide range of companies choose Asendia's mailing fulfilment services, and many have worked with us for years. From leading publishers and direct marketers to local businesses; we help ensure their mailings run smoothly.
Successes with Asendia
In our view, Asendia stands out from competitors in its professional customer- focused approach, the flexibility it can provide, and the personal touch it gives